Document cameras, also known as doc cams, document scanners, or visualizers, are versatile tools designed to capture and display physical documents, books, 3D objects, and even live experiments in real-time. They offer a dynamic way to present visual content, making them invaluable for educators, professionals, and anyone looking to enrich their presentations. Document cameras can transform your teaching, training, and collaborative sessions by providing real-time visuals, enhancing engagement, and improving the overall learning experience. Now that we have a clear picture of their capabilities, let's explore the factors to consider when choosing the right document camera for your specific needs.
Connectors:

You'll need to decide between USB and HDMI connections. In general, USB is often recommended due to its flexibility.

Image Sensor, Resolution, and Frame Rate:

Pay close attention to the image sensor's quality, the camera's resolution, and its frame rate. A higher resolution, paired with faster frame rates, provides you with superior image quality. This aspect is particularly important if you aim to showcase detailed documents or objects with precision.

2-in-1 Functionality:

Seek out document camera models that offer 2-in-1 functionality by doubling as webcams. This added versatility expands the scope of your setup.

Autofocus:

Opt for a document camera equipped with autofocus capabilities. Autofocus ensures that your images remain consistently clear and sharp, even when dealing with dynamic elements within the frame. This feature is especially valuable when you need to capture content that involves movement or adjustments during a presentation.

Shooting Area:

Consider the size of documents and objects you intend to display with your document camera. Think about the proximity required for close-up shots, which is particularly significant if your work or educational materials involve intricate details that need to be highlighted.

Storage and Portability:

Your document camera should be easy to store and transport, especially if you require mobility. Look for a lightweight, foldable design that doesn't take up excess space when not in use. The convenience of storage and portability can significantly enhance your overall experience.

Additional Features:

Take a moment to evaluate any supplementary features that may be relevant to your specific needs. Check for compatibility with essential software, such as video conferencing platforms. Consider whether built-in microphones are required for your setup. Last but not least, if the document camera comes with software that elevates your online presentation experience.
Introducing Innex DC500: A 4K Document Camera that Ticks All the Boxed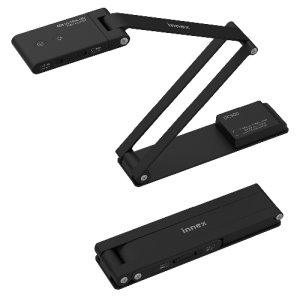 The Innex DC500 stands out as a versatile and powerful choice that caters to a wide range of requirements. Let's delve into what makes this document camera an exceptional addition to your setup:
USB Plug and Play
Innex DC500 simplifies the setup process with its USB plug-and-play functionality. No complex setups are needed—simply plug it into your computer and start using it.
Impressive Visuals
The Innex DC500 equips with a 13MP sensor and boasting a remarkable 4K resolution (with a maximum of 3840x2880p), this document camera guarantees outstanding image quality. Moreover, it offers 30fps at 1080P, ensuring smooth movements.
2-in-1 Doc Cam & Webcam
With the ability to seamlessly switch between overhead document camera and front-facing webcam modes, this document camera provides unparalleled versatility. The built-in G-sensor automatically detects the mode and adjusts the video direction accordingly.

Watch auto-rotation demo on YouTube
Noise Cancelling Microphone
The Innex DC500 incorporates a powerful AI-noise-canceling microphone that enhances your audio quality during presentations and video conferencing. This feature helps eliminate background noise, ensuring that your voice comes through loud and clear, even in busy or noisy environments.
Dual Autofocus Mode
The Innex DC500 offers two autofocus modes to suit your needs. AF-S (Autofocus-Single) ensures that static objects are captured with precision and clarity, eliminating any focus adjustments when presenting stationary content. Typically, it's suitable when using it as a doc cam, where you share paper content, and you can write on the paper without blurring your content. On the other hand, AF-C (Autofocus-Continuous) is designed for dynamic subjects. This mode guarantees that your video remains consistently sharp, even when you're demonstrating objects or materials that involve movement or adjustments. In general, AF-S is for document camera mode, while AF-C is for webcam mode.

Watch autofocus demo on Youtube
Large Shooting Area & Close Shot
With the Innex DC500, you can effortlessly display A3 document or opened-page A4 books, making it ideal for educational settings and various content-sharing scenarios, such as online drawing, handicrafts, and chess coaching. For those moments when you need to zoom in on fine details, the Innex DC500 allows you to get as close as 10 cm to your subject. This close-shot capability ensures that even the tiniest elements are highlighted with precision.
Lightweight and Portable
Designed for convenience and mobility, the Innex DC500 features a foldable design that facilitates easy storage and transport.
Compatibility
Innex DC500 is compatible with all video communication software such as Zoom, Google Meet, and Teams. It works with Windows, Mac, and Chromebook.
Complimentary Software
The software Ideao VisualCam and IdeaoCam further expand the functionality of the document camera, allowing you to tailor your presentations and content-sharing.
Ideao VisualCam: Available on Windows computers and Macbooks, this software enables you to perform 10x digital zoom, take snapshots, record videos, adjust resolution, use on-screen annotation, implement split-screen and picture-in-picture. Learn more
IdeaoCam: This Chrome extension app works on any computer with a Chrome browser. It allows you to perform 10x digital zoom, take snapshots, record videos, adjust resolution, and create stop-motion videos. It uniquely integrates with Google Drive and Google Classroom. Learn more
In conclusion, selecting the right document camera hinges on your specific needs and preferences. Whether you opt for a USB document camera like the Innex DC500 or other brands, having the right tool can significantly enhance your online sessions, creating a truly immersive and engaging experience.

---
Pro Tips for Better Image Quality in Online Classes
For improved video quality when using a document camera in online sessions, here's a pro tip for you:
Download camera software such as Ideao VisualCam or IdeaoCam to your computer.
Open the software and adjust your image settings.
In your video communication software, select the "Share Screen" option, and choose the application from step 2. If you're using Zoom, you can also select "Share Screen," navigate to the "Advanced" tab, and click "Content from 2nd camera" without using the Ideao VisualCam or IdeaoCam software.
By opting to share your screen instead of selecting the document camera as your camera feed, you can ensure high-quality video without being affected by your Wi-Fi environment or bandwidth limitations.