4K Doc Cam/Webcam with Noise-Cancelling Microphone

13 MP Camera

Noise-Cancelling Mic

Smart Focus

Auto RotateG Sensor

LED Light

Plug & Play

Compact Design

Interactive Software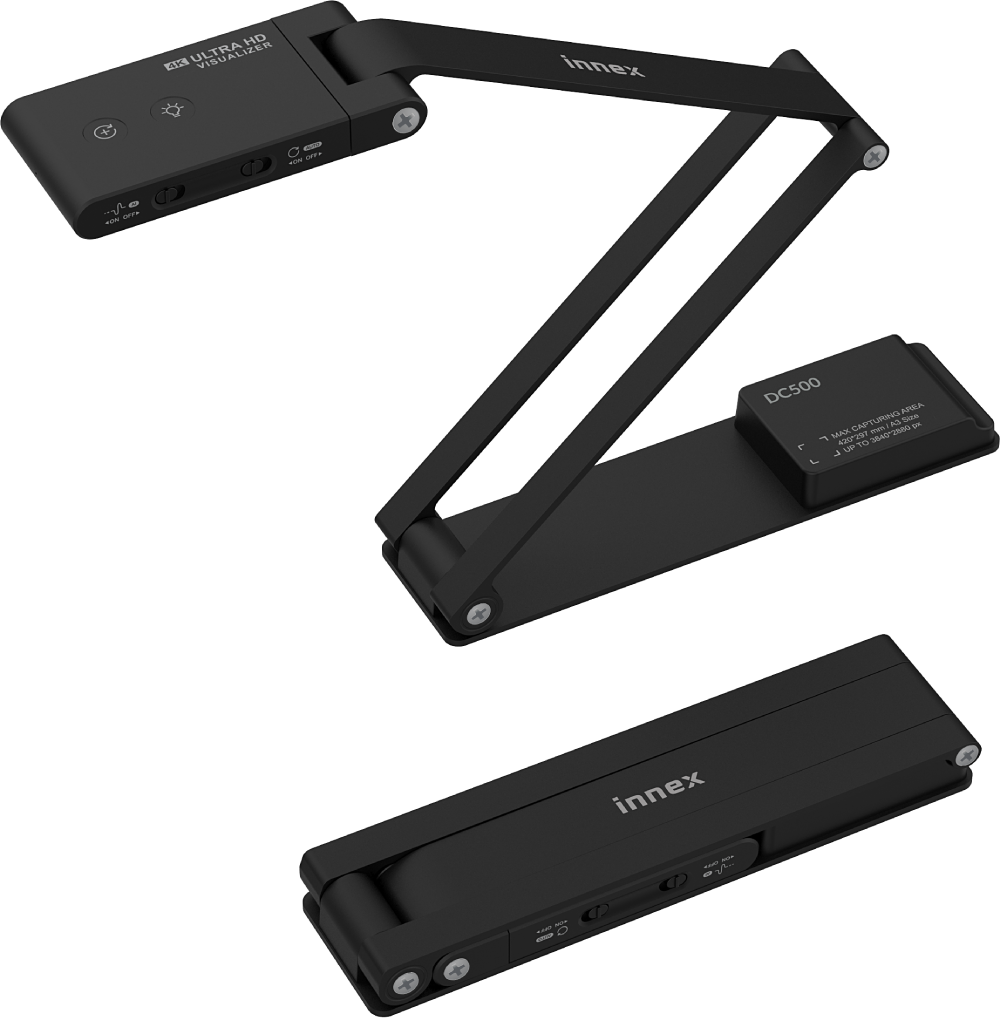 Perfect Detail. Perfect Remote Communication.
Present and teach like a pro with the versatile 4K document camera, Innex DC500.
It's an ultimate tool for teacher and student who needs a high-quality camera for presenting documents, homework, and other materials. Simple as to plug and play, and easy to store with its foldable compact design. Innex DC500 is the perfect addition to any classroom, learning environment, or even office conference!
AI-Powered Noise Cancellation
Clear Communication in Any Environment​
Built-in noise-canceling microphone that ensures that your voice comes through loud and clear, whether you're teaching from home or learning remotely. Get rid of background noise distractions and focus on your content!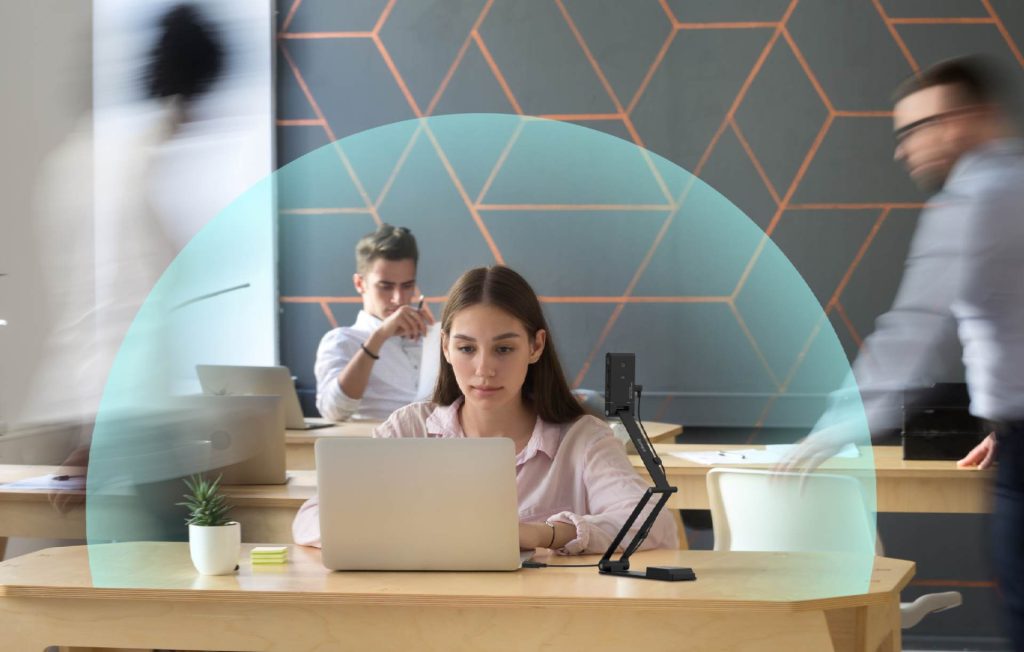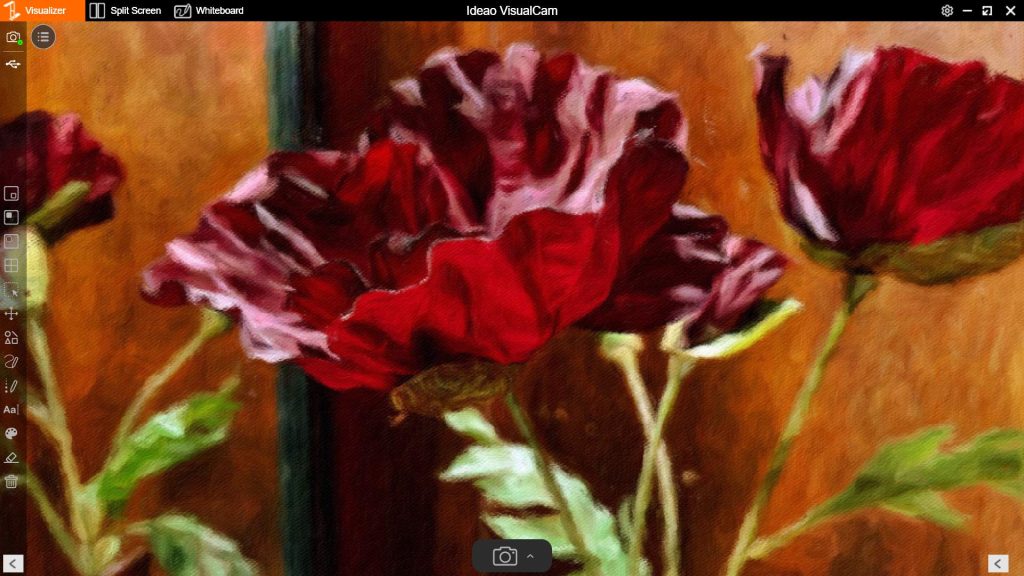 With its 4K resolution, the Innex DC500 captures every detail of your materials with stunning clarity and precision. Whether you're presenting a complex math equation or showing off a delicate art project, this camera ensures that your audience can see everything clearly!
Easily switch from an overhead document camera to a front-facing webcam with the Innex DC500. The built-in G-sensor automatically adjusts the image to the correct orientation, seamlessly transitioning between doc cam and webcam modes. Perfect for virtual teaching and learning.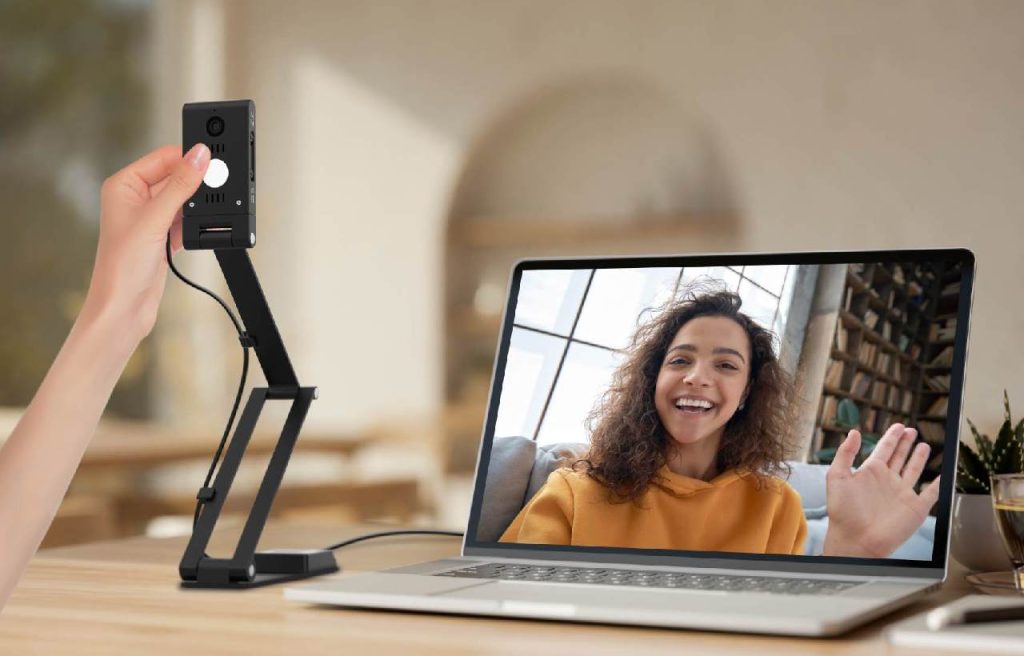 Dual Focus Modes for Versatile Use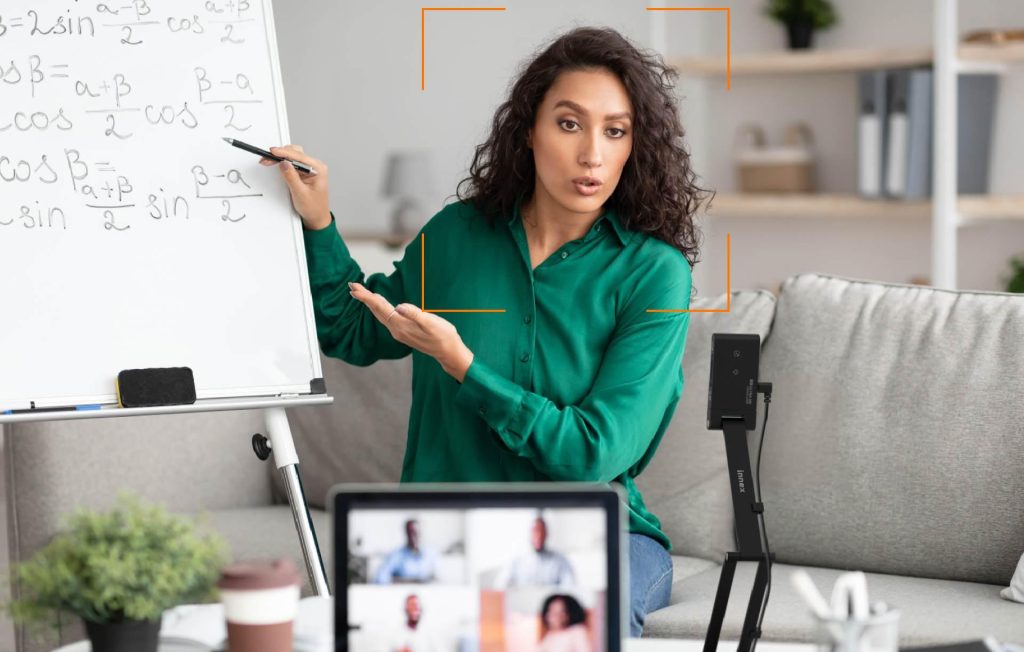 When the autofocus is on, the Innex DC500 will constantly adjust its focus when it detects the shooting object moving. This mode ensures that the video remains sharp and in focus, even when you are moving around, making it perfect for use as a webcam or for sharing dynamic content.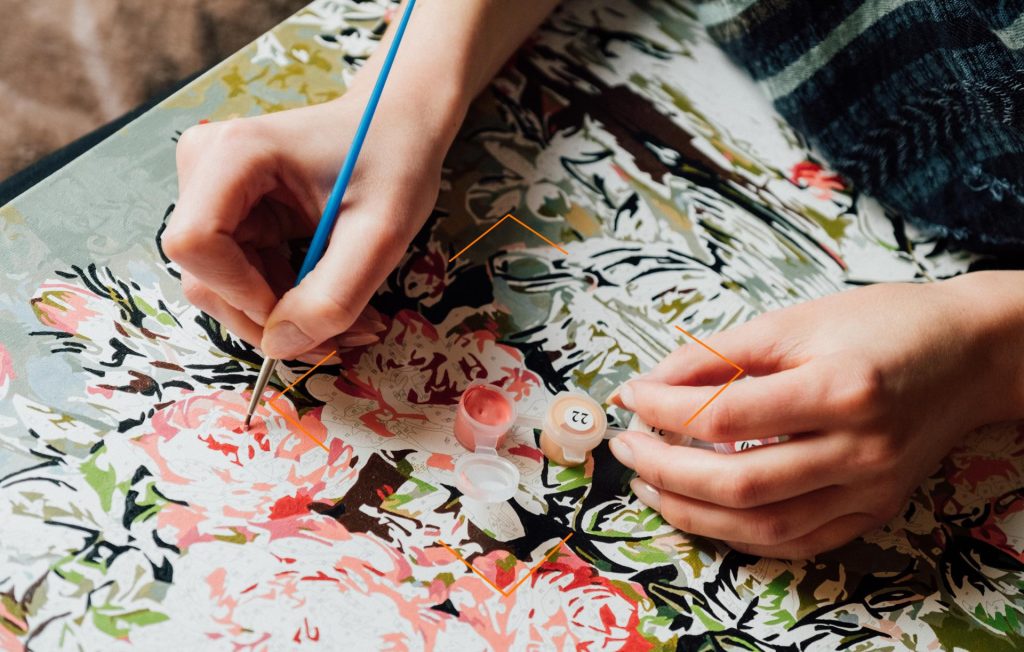 When the autofocus is off, the Innex DC500 doesn't re-adjust its focus until you press the focus button to trigger autofocus. This mode helps keep the video steady and prevents it from jumping around, making it ideal for shooting flat objects such as documents and paintings.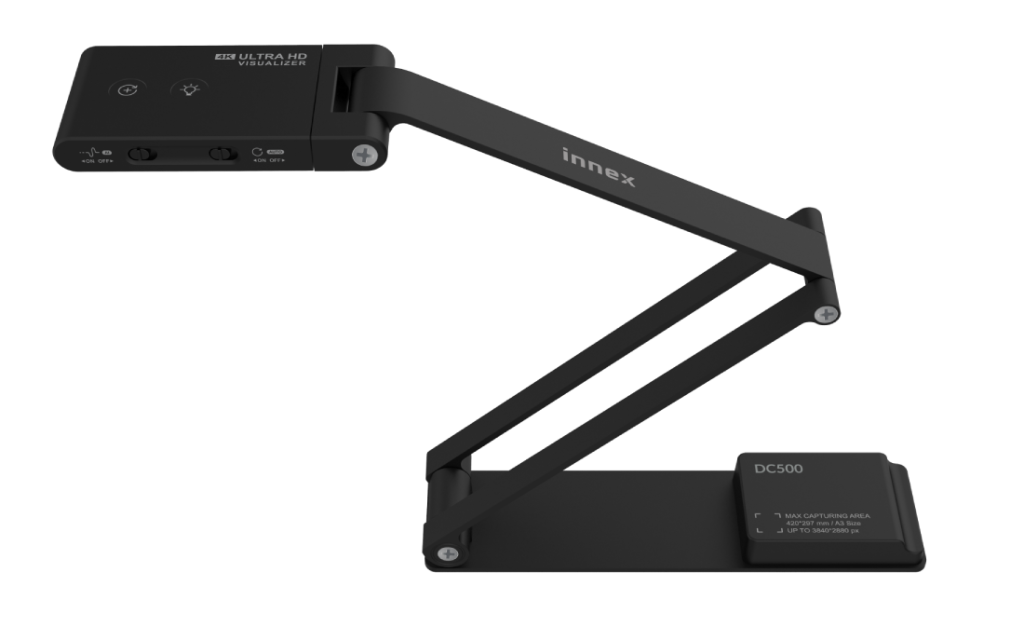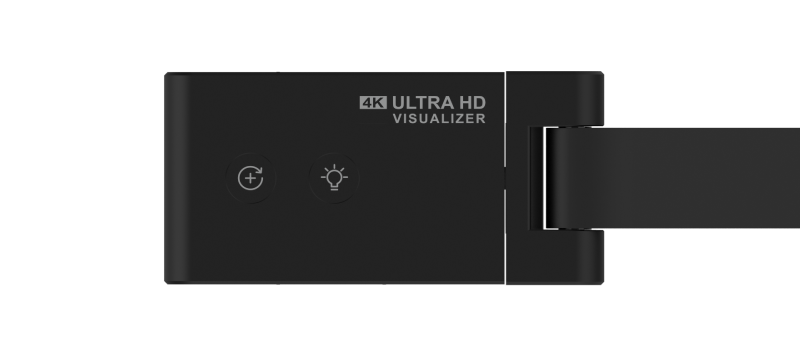 Autofocus: manually trigger autofocus with light press or 180° rotation with long press.
LED: 3-level LED light.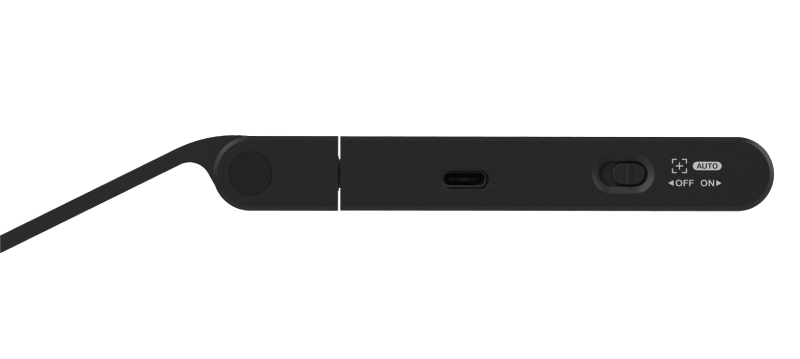 On: Constant autofocus, suitable for webcam mode.
Off: One-time focus. Manually trigger focus by pressing the + button. Suitable for document camera mode.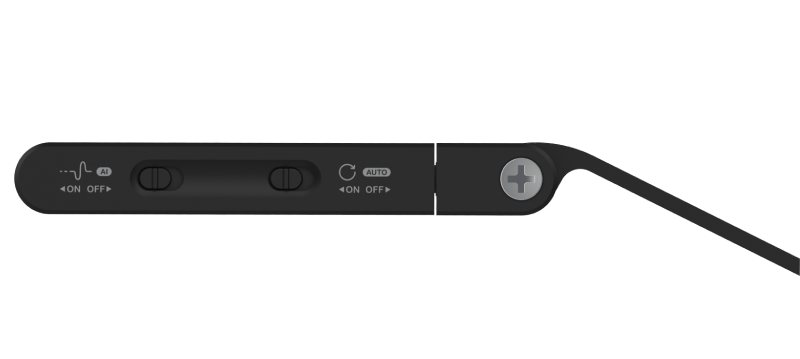 On: Reduces background noise and captures only the closest voice.
Off: Captures everything.
Interactive Ideao Software
Use the powerful Ideao software to achieve more: split mode comparison, image flip, and annotate over the content.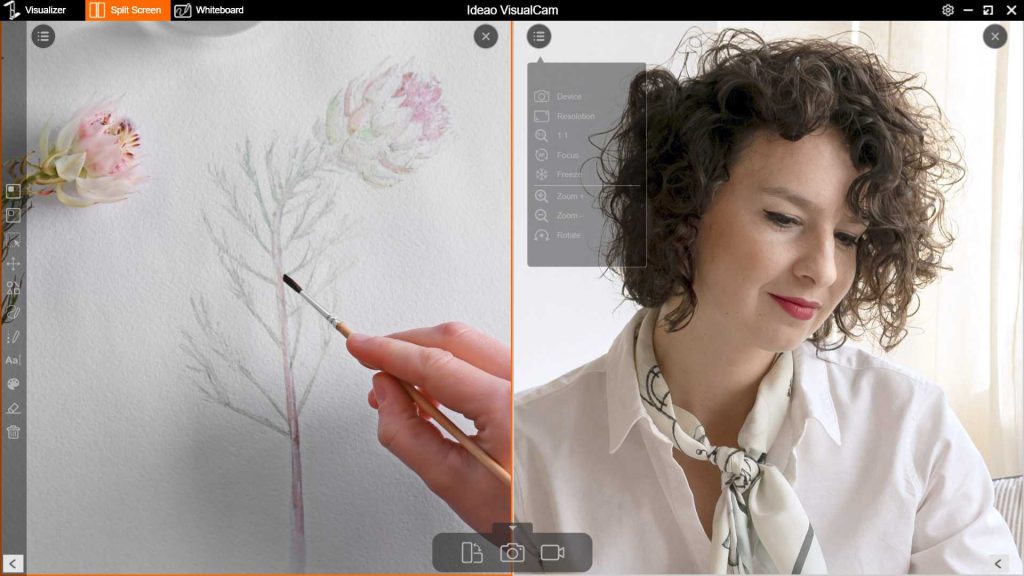 Compatible with Online Communication Software

Take it with you wherever you go, whether you're moving from classroom to classroom or from one location to another. The Innex DC500 features a foldable hinge design that makes it incredibly portable and easy to store!
Max. Output Resolution & FPS:
3840×2880 @15fps (To Capture A3 Image) 
3840×2160 @30fps
1920×1080 @60fps
Video Compression: MJPG/YUY2
Focus: Auto Focus/ One-Time Focus
Low Light Capture: Support
Max. Shooting Area: 440x330mm / 17.3×13″
LED Lighting: Yes, 3-Level
Image Rotation: 0° / 180°
Frequency: 50/60Hz
Built-in Microphone: Omnidirectional
Microphone Specifications: Sensitivity S 94dB SPL @1KHz Min-29 Tye-26 Max-23 dBFS
Feature:
Noice-cancelling
Connectivity: USB-C to Type-A 2.0
Powered by: USB 2.0 5V/500mA
Protocol: UVC; UAC; Plug-and-Play
Operating System:
Window 11, 10
MacOS 10.10 or above
Chrome OS
Cable: USB-C to Type-A 1.5 m/ 4.9ft
Product Dimensions: 197x51x20mm / 7.7″x2″x0.8″
Net Weight: 450g / 15.8 oz