In the world of video conferencing, 360-degree cameras have emerged as a game-changer, offering a unique perspective that regular front-facing cameras can't match. These cameras are designed to sit on a tabletop, capturing a panoramic view and utilizing AI algorithms to create close-up shots, resulting in an immersive meeting experience. But with several options available in the market, how do you choose the right 360-degree camera for your needs?
Why Choose a 360-Degree Camera?
Before we delve into the selection process, let's understand why 360-degree cameras have gained prominence. Unlike traditional cameras that are typically mounted at the front, 360-degree cameras are placed on a tabletop, offering a unique perspective of your meeting space. They capture a full panoramic view and leverage AI algorithms to detect human faces and create close-up shots, delivering an immersive center-view experience for video conferencing.

Market Players: Who's in the Game?
The world of 360-degree cameras is expanding, with various players entering the market. Owl Cam, an early entrant, now boasts Owl Cam 3. Since 2022, more conference solution brands have also joined the 360-degree camera arena such as Logitech, Yealink, Neat, Kandao, Emeet, and more. In this article, we'll explore how to choose the right 360-degree camera and provide a basic comparison of Innex Cube, Owl Cam, Logitech Sight, and Yealink SmartVision 60.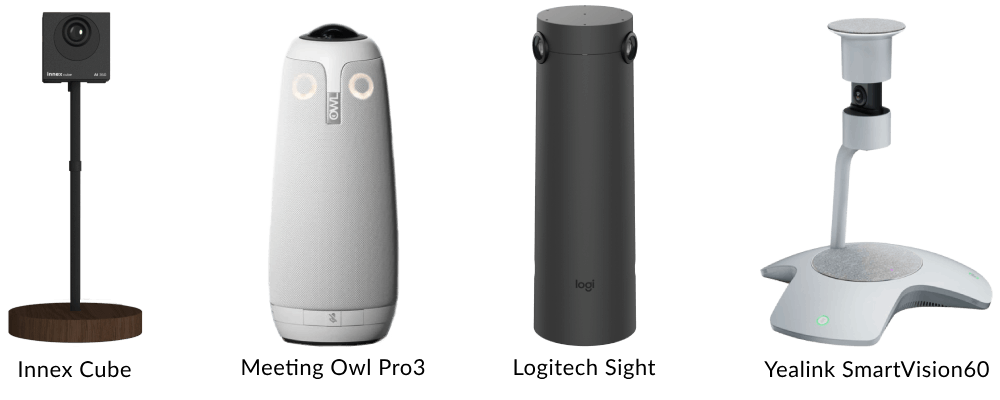 Tips for Choosing a 360-Degree Camera
Selecting the perfect 360-degree camera can significantly enhance your video conferencing experience, and engage your remote audience. To make an informed decision, consider the following factors:
Size of Meeting Space:
Determine the size of your meeting space. Are you setting up the camera in a huddle space, a small meeting room, or a mid-large meeting room? Larger rooms may require two 360-degree cameras to ensure optimal coverage and microphone pickup range for all participants.
Type of Meeting:
Think about the nature of your online meetings. Are they primarily for presentations, brainstorming sessions, or discussions? Consider how you want participants to appear in the video feed. Some cameras focus only on active speakers, while others support close-up shots for up to four participants. Understanding your meeting dynamics is crucial for selecting the right camera.
Camera Height:
Consider the camera's height as it directly impacts achieving a natural face-to-face angle. It's crucial to position the camera at the right height to avoid awkward angles or potential obstructions from laptops and other objects on the table. Typically, a camera height of 30-40cm works well for most situations. However, if your table is unusually high or low, you may need to make height adjustments accordingly.

Video Quality:
Video quality matters. Check for clarity, sharpness, and any distortion in the camera's output. It's recommended to watch live demo videos to assess real-world performance. In general, cameras with multiple lenses tend to have reduced distortion.
Configuration:
Consider your existing infrastructure. Do you have the technical capabilities to support advanced camera setups, or are you looking for a straightforward plug-and-play solution? Verify the availability of power outlets and necessary cables in your meeting room. Logitech Sight demands pro IT configuration, whereas the others offer simpler setups. Both Meeting Owl and Yealink SmartVision 60 necessitate a USB cable connected to the laptop and a power cable, whereas Innex Cube only requires a USB cable.
Control:
Think about how you intend to control the camera during meetings. Some cameras require dedicated software or mobile apps, like Meeting Owl and Logitech Sight, while Innex Cube provides remote control. Opt for a control method that best suits your team's preferences and capabilities.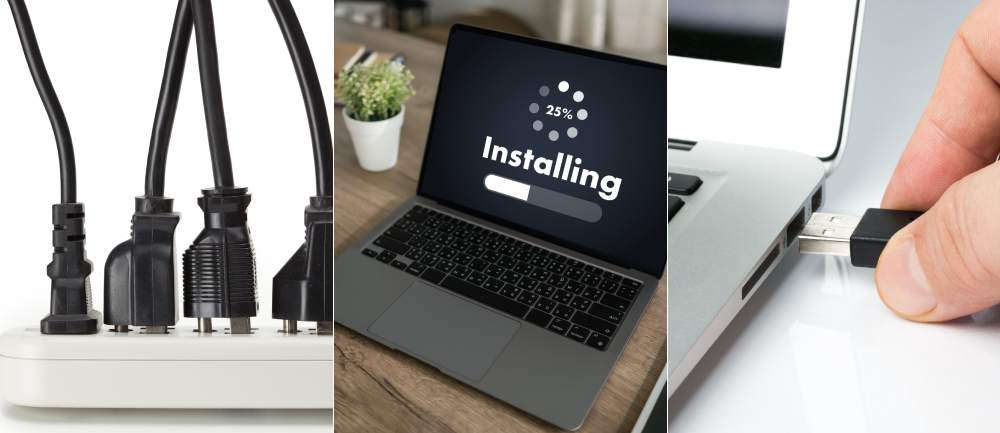 Budget:
Last but not least, establish your budget. Determine how much you're willing to invest in a 360-degree camera while keeping in mind your specific requirements.
Comparing the Models
Now that you have a better understanding of what to look for in a 360-degree camera, let's briefly compare the featured models: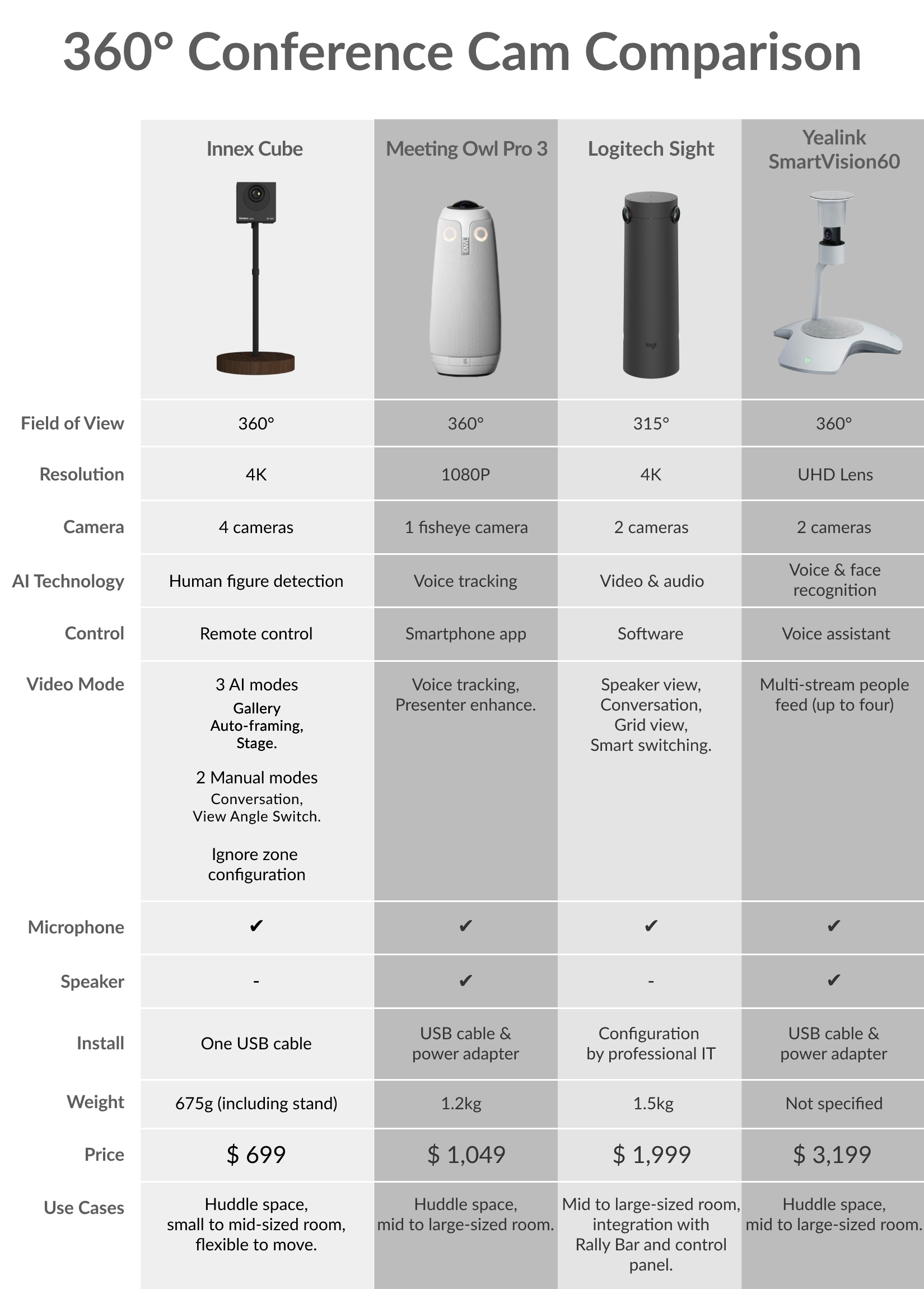 *Please keep in mind that the information presented here is based on the website descriptions, and some details may not be specified on the website or are subject to change.
Find One that Fits Your needs
Based on our comparison chart, there're some summary for each camera.
Innex Cube
Innex Cube is a user-friendly plug-and-play camera that requires no special configuration or power cables. It offers height adjustment options and is suitable for huddle spaces and small to mid-sized rooms. It stands out for its flexibility and mobility, and versatile video modes.
Meeting Owl Pro3
The Meeting Owl Pro3 can be used as a single camera or in pairs for larger meeting rooms. It's ideal for huddle spaces and mid-large spaces, but it requires a power cable for operation and app to control, so ensure your meeting room has the necessary power infrastructure.
Logitech Sight
With a 315-degree view, Logitech Sight is suitable for mid to large meeting spaces. It offers the ability to switch between front and center views when used with Logitech's Rally Bar, but it requires professional IT configuration and software control. It is also the most expensive option.
Yealink SmartVision 60
This model highlights its distinctive voice and face recognition capabilities, in addition to having a voice assistant. While specific control methods may not be fully detailed, it is generally well-suited for mid-size meeting rooms. Similar to the Meeting Owl, it requires a power cable for operation.
In Summary
Most 360-degree cameras aim to provide an immersive close-up shot, but they use different technologies and offer varying ways to display video. In this article, we've provided essential guidelines on how to choose the right camera and offered a glimpse into the differences between popular 360-degree camera models. We hope this information helps you make your next video meeting truly immersive!
Discover more about Innex Cube