Engaging your audience and keeping them focused during remote or hybrid meetings can be a challenge, especially if you are a presenter, teacher, or trainer. Research indicates that within just an hour of a presentation, 50% of the information is typically forgotten and after a week, 90% is lost. Considering the time and money invested in training could possibly make no impact at all.
Based on the principles of neuroscience, offer ways to improve remote/hybrid meeting efficiency and engage the audience, increase their attention, and ultimately help them retain more information for a longer period of time. Here're 3 key concepts for active engagement:
Reinforcing Your Message with Visuals
When it comes to presentations, it's important to make a strong impression on your audience and emphasize your points. To do this, it's helpful to write and repeat your message visually throughout the presentation. This technique helps reinforce the information in the minds of your audience, making it easier for them to remember and retain what you've said.
After the presentation, you can further reinforce the information by sending your audience a meeting handout with notes. This serves as a visual stimulation for their brain and helps keep the information fresh in their mind for a longer period of time. By taking these extra steps to reinforce your message, you can help increase productivity and ensure that your audience walks away with a clear understanding of your message.
Focus
Keep your audience engaged by having a clear focal point in your presentation. Overloading them with too much information at once can lead to distraction and a loss of engagement. By keeping the presentation focused, audience members are able to maintain their attention and actively participate in the presentation.
Executive Presence
People prefer to interact with individuals rather than screens. As a presenter, you are more crucial than the presentation itself. Your audience is more likely to feel connected when they see your face, rather than a black screen with only your name or a small thumbnail image at the bottom of their screen. Body language, expression, and emotion convey more messages and make a stronger impact than just a presentation deck.
Stand out, don't be a postage stamp!
Ideal Setup for Effective Communication
Transform your remote/hybrid meetings with ease, without the need for a large investment. FunTech Innovation's solution allows you to turn your personal workspace or huddle space into an effective presentation and collaboration spot. This bundle includes the Ideao Hub touch monitor, Ideao Pen, the Innex C470 conference camera (or any of your choice), and software Reactiv SUITE. It's the perfect solution for anyone looking to improve their hybrid work and stand out.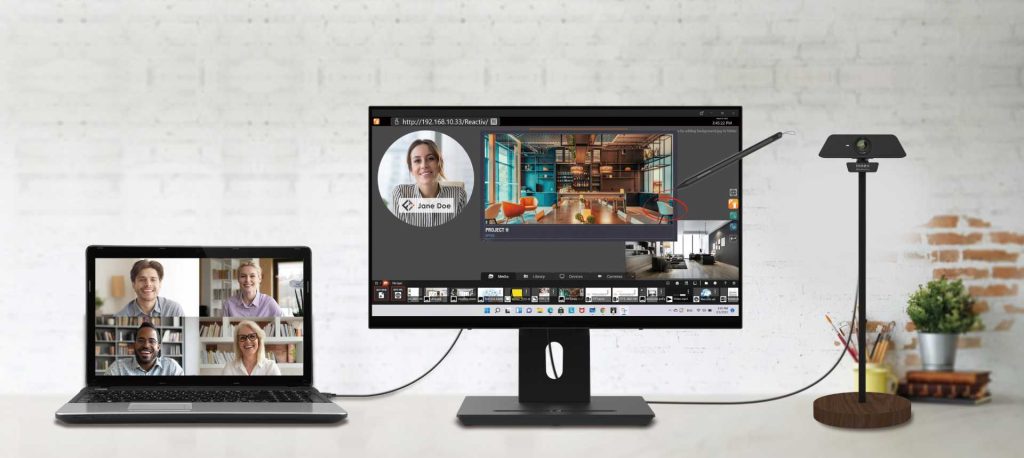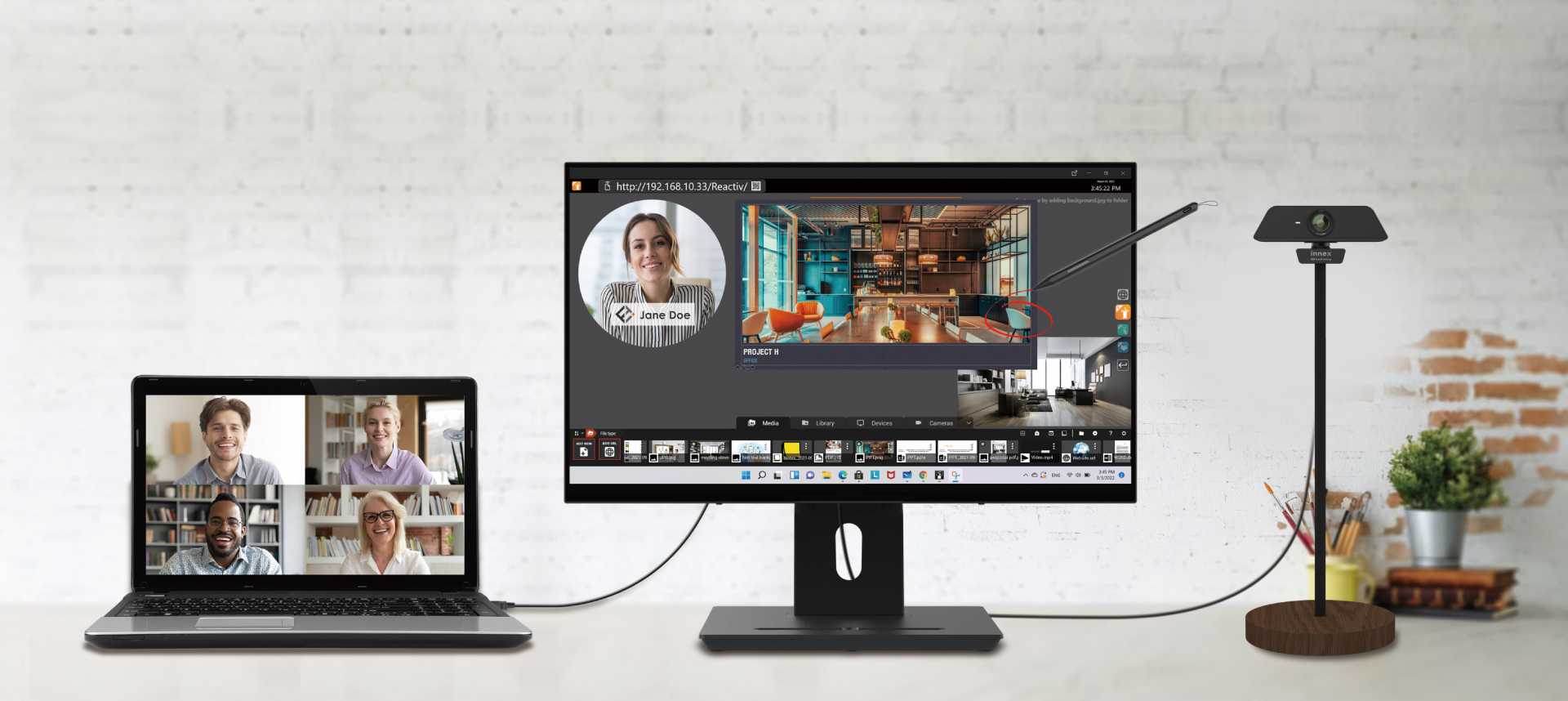 ① Ideao Hub ② Ideao Pen ③Innex C470 ④ Reactiv SUITE software
Transform Your Remote Presentation
Present any file in your preferred layout in #ReactivSUITE. Share screen using in any video conference software.
Markup, ink, and highlight your content with #IdeaoPen.
Elevate your presence, and make your audience feel like they are in the same room with you with #Innex webcam.
Unique value proposition of the bundle.
Client Testimonial – Mark Hunter