Fun Technology Innovation (FTI) was invited to give one of the keynote speeches at Intel Business Comes Alive 2021- Driving Innovation in Education on 29th September. Thomas Chang, Alliance and GTM Director at FTI, represented FTI as the keynote speaker, and showcased the future of hybrid learning- "Digital Table in the Era of Hybrid Learning: the next best thing than teaching face to face".
Integrating FTI's vision for the future of education, FTI uses powerful digital collaborative tools and rich audio-visual experiences to inject enjoyment back into learning. In the session, Thomas delivered an eloquent presentation complete with a live demonstration of the immersive Digital Table solution, specially designed to address the needs and challenges of conducting lessons in the hybrid classrooms.
Watch On-Demand https://youtu.be/SJ2sreuVOY8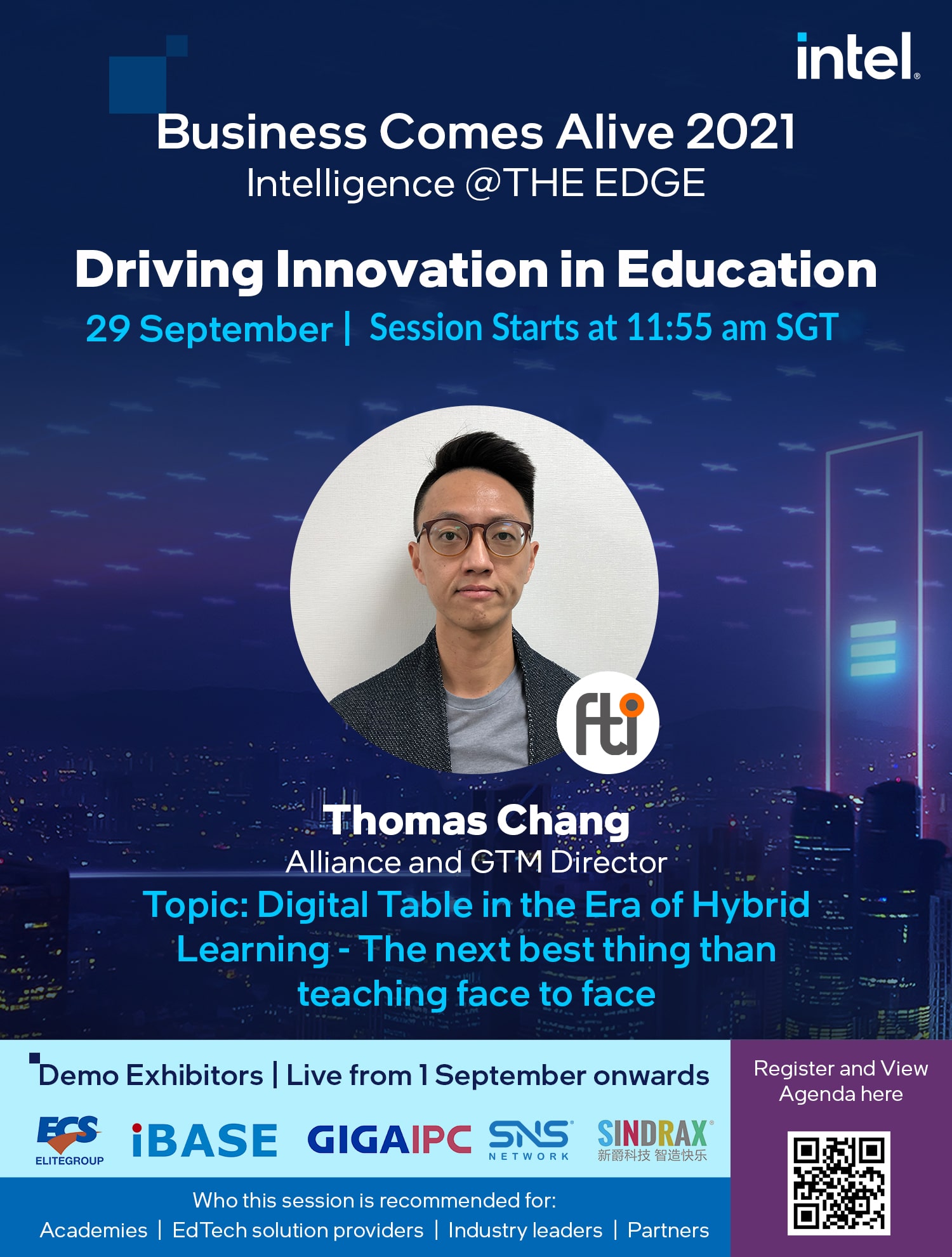 About Intel (BCA) Business Comes Alive 2021
Intel Education Comes Alive on 29th September is one of the events of Intel Business Comes Alive. From the role of Digital Transformation in coaching powerful problem solvers to Hybrid/Blended Teaching & Learning improving in-classroom experiences and online learning, Intel have multiple sessions and demos which will delve deeper into maximizing education outcomes through data-driven pedagogies. Intel is empowering educators, the academia, partners, EdTech solution providers and other stakeholders and making education more adaptable and resilient.
About FTI
Fun Technology Innovation Inc. (FTI) designs and develops technology to enrich people's lives. Combining high quality audio-visual, human-computer interaction, and AI, FTI's offerings enable digital connection and collaboration. With the focus in the field of working, learning, and entertainment, FTI owns 3 key brands: Innex, Ideao, and Injoy to serve the market.