Fun Technology Innovation Inc. (FTI) is pleased to announce an alliance partnership with Barco Clickshare, a global leader in wireless presentation and conferencing solutions. FTI's AI conference camera Innex C470, Innex C830, and Barco Clickshare join forces to take video conference experience to new height.
Innex C470 and C830 are certified to be compatible with Barco Clickshare and provide premium BYOD conference experiences. Innex C470's built-in AI auto-zooming & tracking, superior video quality, and distortion-free 120° ultra-wide view angle; and Innex C830's full room coverage at 180°, flexible view angle switch, and powerful facial tracking are now accessible through Clickshare's superb wireless connectivity. The combined solution benefits today's hybrid meeting space with cable-free flexibility, and works seamlessly with all conferencing platforms.
"The partnership is important to us as it shows our promise to provide innovative video-audio products with high compatibility. Innex conference cam series offer premium video and audio quality, and we are proud to offer our solution along with Barco Clickshare conference system to our customers, and help their meetings be more productive and efficient", said Eric Lee, Founder & CEO of FTI.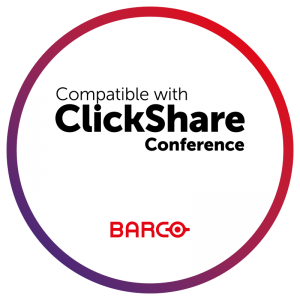 About FTI
Fun Technology Innovation Inc. (FTI) designs and develops technology to enrich people's lives. Combining high quality audio-visual, human-computer interaction, and AI, FTI's offerings enable digital connection and collaboration. With the focus in the field of working, learning, and entertainment, FTI owns 3 key brands: Innex, Ideao, and Injoy to serve the market.