In today's evolving work landscape, where employees often toggle between remote and in-office work, it's crucial for companies to adopt effective technology solutions that streamline hybrid communications. Consider the traditional meeting setup: you gather in a conference room, armed with your laptop, and then the cable chaos begins. One HDMI cable connects your laptop to the large display, another USB cable links to an external conference camera, and perhaps an additional USB cable stretches to a speakerphone if you're seated far from the microphone.
Now, let's pause and think about this setup:
You're juggling 3 different cables.
Your seating options are limited by the cable lengths.
There's a possibility of needing an extra USB hub for more ports.
Not everyone is a cable expert, leading to potential technical glitches.
Sounds exhausting, right?
Introducing the Solution: Wireless Conferencing System
The good news is that there's a hassle-free solution to all these cable-related woes – wireless conferencing system. When it comes to achieving effective hybrid meetings, a wireless conferencing system can be a game-changer. Here's why:
Minimizing Setup Time

With a wireless conferencing system, you can bid farewell to the time-consuming cable connections. Setting up becomes a breeze, allowing you to start your meetings promptly.

Seamless Content Visibility

These systems ensure that both remote and in-room participants have clear visibility of the content being presented. No more awkward moments of squinting at a shared screen.

Enhanced Remote Engagement

Remote participants can now fully engage in the meeting, thanks to improved visibility and audio quality. Everyone can hear and be heard with crystal clarity.
When considering a wireless conferencing system, it's important to ask the right questions:
Is it compatible with all laptops?
Is installation complex or labor-intensive?
Is it secure for your organization?
Does it genuinely facilitate effective content sharing between remote and in-person participants?
Choosing Innex Connect: Your Solution for Effective Hybrid Meetings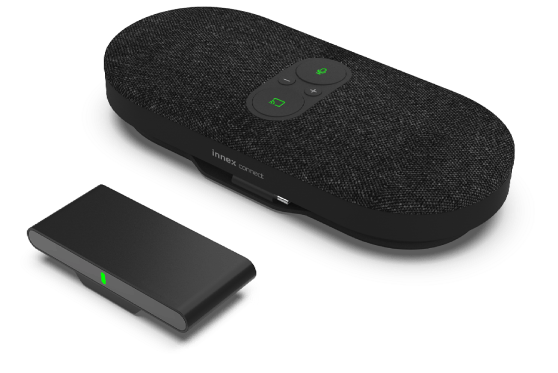 Innex Connect – a wireless conferencing system that combines BYOM (Bring Your Own Meeting) wireless presentation capabilities with immersive visuals and enhanced audio. Innex Connect includes a speakerphone and a receiver, making it an all-in-one solution for your meeting room needs.
Here's why it's the ideal choice:
Reduce Cable Clutter
Setting up Innex Connect is a one-time affair. Simply connect the receiver to the display and the camera, along with a power cable for the receiver. The receiver attaches magnetically to your display, eliminating the need for drilling additional holes in your walls. After this initial setup, all you need to do is connect the USB-C cable from the speakerphone to your laptop – it's that straightforward.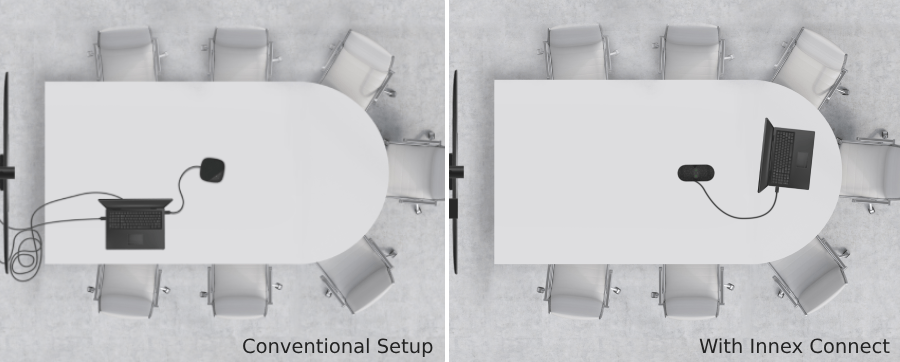 Tap to Cast Your Screen
Switch the display source to the receiver and tap the screen cast button on the speakerphone. You can seamlessly share your entire screen in high-definition 4K quality with minimal latency, whether you're presenting slides or videos.
Wireless Second Monitor
Innex Connect goes beyond screen sharing. It allows you to use the large display as a wireless second monitor. Drag content to the second display to show only what's relevant to your participants, effectively expanding your workspace and boosting productivity.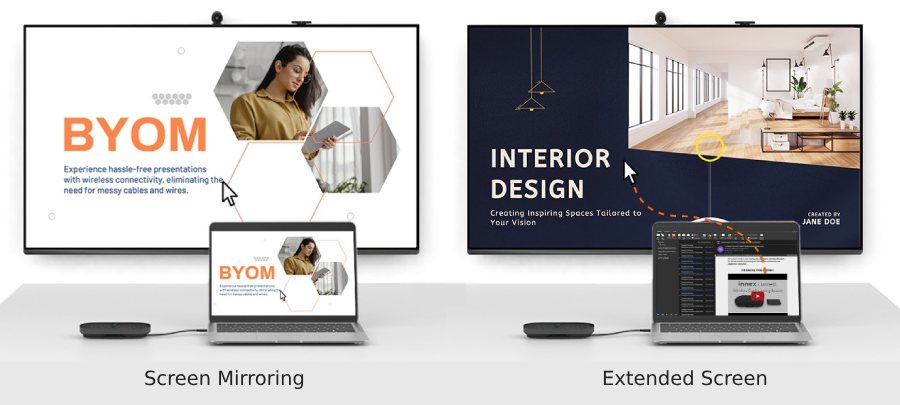 Camera Streaming
To engage remote participants fully, Innex Connect makes the conference camera wireless. Connect the Innex C570 conference camera to the receiver and mount it on top of the display using the clip mount. When you connect the speakerphone to your laptop, you can easily select the Innex C570 as your camera in any video conferencing software. The versatile camera features responsive auto-framing, ensuring everyone stays in the frame, and a 5x digital zoom for focusing on specific areas within its wide 120-degree view. With the included remote, you can switch between auto-framing and manual mode, adjust image brightness settings, and customize preset angles for convenience.

Voice Enhancement and Express Button Control
Once connected, the speakerphone is ready to use with video conferencing software such as Zoom, Google Meet, and Microsoft Teams. Its 8-microphone array captures voices from all directions, ensuring clear audio pickup, while the powerful speaker guarantees that in-room participants can hear with precision. The speakerphone also features buttons for quick meeting control, including microphone mute and volume adjustment. Additionally, it can function as a standalone portable speakerphone, allowing you to take it with you wherever you go.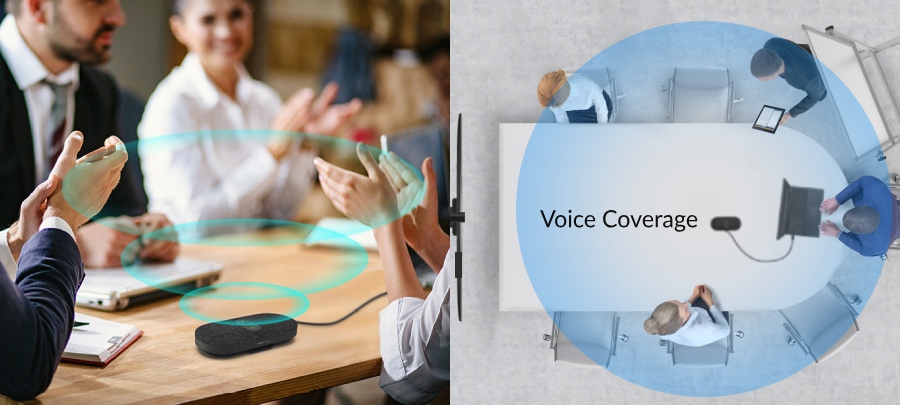 Simplified and Secure
Innex Connect is designed for a hassle-free experience. You won't need to install additional drivers, software, or apps – simply plug and play.
Compatibility
Innex Connect works seamlessly with both Windows computers and MacBooks. Even if your laptop's USB-C port doesn't meet all the requirements, the included adapter lets you to convert the USB-C of the speakerphone to an HDMI and USB-A cable.
Regarding the receiver connection, whether you're using an interactive display or a standard TV, Innex Connect's flexible connection methods have you covered. The receiver depends on a power cable to receive its power supply. If your display lacks a USB-C port for power delivery, you can easily use a power adapter block as an alternative solution.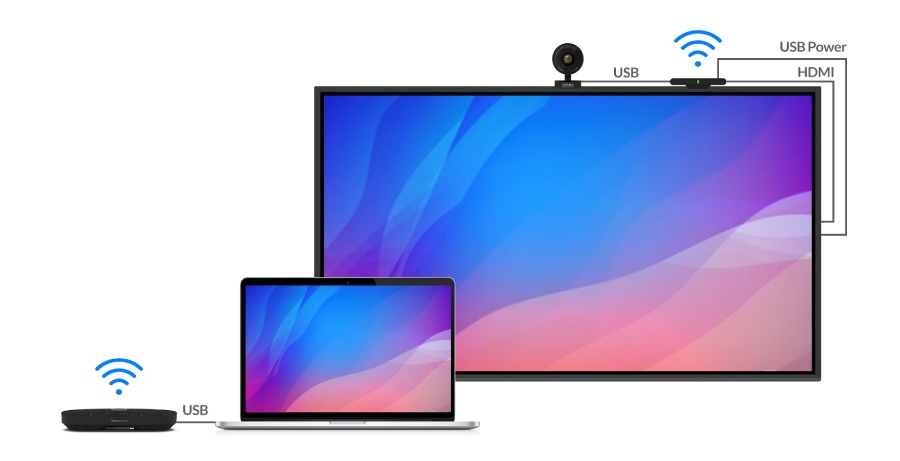 Wrap up
Ditch the cable clutter, minimize setup time, and maximize the efficiency of your hybrid meetings with Innex Connect. It's the wireless conferencing system that simplifies your technology, ensuring seamless communication between remote and in-person participants. Say goodbye to tangled cables and hello to productive and engaging meetings.
Explore Innex Connect today and experience the future of hybrid meetings. Click the button below to discover more: