In the wake of the work-from-home era, organizations are now navigating the transition back to the office. Even industry giants like Zoom, once synonymous with remote working, are embracing this shift. The return to the office is also showing in a wave of changes, with concepts like hotdesking, shared workspaces, and huddle spaces taking center stage. These changes aim to meet the evolving demands of hybrid meetings and maximize office space efficiency, ultimately driving a better return on investment. In this era of digital transformation, agility is the key to success.
A significant percentage of employees now work flexibly between home and the office, relying on laptops as their primary workstations. Their laptops house everything, including data, meeting schedules and documents. In an office environment, it makes perfect sense for employees to use their own laptops during team discussions, presentations, and meetings. This trend has given rise to the concept of "Bring Your Own Meeting" (BYOM) technology, which stands in contrast to traditional room-based systems.
Bring Your Own Meeting
With BYOM, users retain control over their meetings through their personal devices, while room technology assists and facilitates a seamless workflow. This approach ensures smoother communication and greater flexibility for both in-room and remote participants. In our previous article, we introduced Innex Connect, a BYOM wireless conferencing system. In this blog, we'll explore another innovative solution designed to enhance meetings that demand active participation, interaction, and brainstorming.
If you've ever been part of a highly interactive meeting, such as a proposal review, contract review, product design, or brainstorming session, you've likely encountered challenges such as:
Keeping track of every idea and critical note.
Efficiently following up on action items.
Monitoring progress and changes.
Ensuring that everyone is on the same page.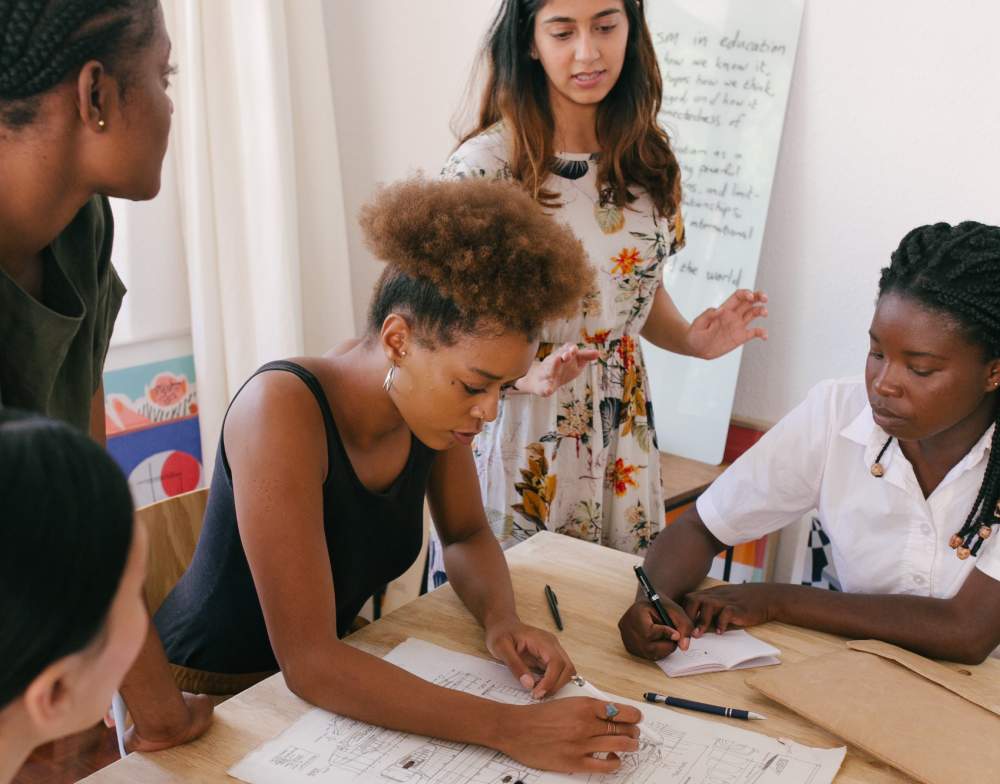 At the end of such meetings, discrepancies often arise, important details get overlooked, and precious time is spent transcribing handwritten notes or manually updating documents. Many project management software and whiteboard tools attempt to address these issues, but they often require everyone to use the same software, creating compatibility challenges.
Imagine a solution that allows you to annotate and write directly on various types of content, whether it's a Word document, PowerPoint presentation, Excel spreadsheet, PDF, or a blank digital canvas. Now imagine achieving this without the need for $1,500 touch laptops or specialized software. This seemingly simple solution can have a profound impact on your meeting's effectiveness. You will be surprised how a simple solution can take your meeting to the next level.
Introducing the Ideao Hub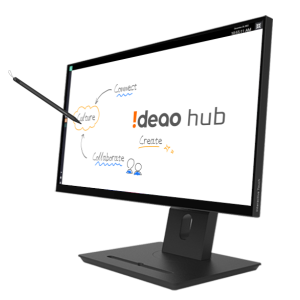 Ideao Hub is a 24" interactive display designed to seamlessly integrate with Windows laptops. By connecting your laptop to Ideao Hub via a USB-C cable, you access to a second monitor with precise touch-and-write capabilities, expanded ports at the back of the display, and laptop power supply.
Engaging In-Office Collaboration: Empowering Team Dynamics
Dynamic Meetings: Real-Time Annotation with Windows Ink
Ideao Hub transforms your traditional workspace into interactive hub, where collaboration thrives. Meetings become dynamic, engaging experiences through real-time annotations, digital whiteboarding, and interactive presentations. With the native Windows Ink tool, you can write on your digital content as naturally as using pen and paper. Whether you're strategizing on a Microsoft Whiteboard or dissecting complex data, your digital notes seamlessly integrate with your content, making it easier for everyone to stay engaged and focused.
Unlocking the Potential of Interactive Brainstorms
Ideao Hub's interactive capabilities extend to brainstorming sessions. It empowers creativity by providing a digital canvas for sketching ideas, organizing concepts, and refining strategies. With a shared platform for ideation, your team can collectively shape innovative solutions without losing track of any contributions. Even if you only need a simple whiteboard and a few images as visual aids, Microsoft Whiteboard canvas will be the easiest solution. Your brainstorming sessions are accessible via the cloud anytime.
Elevating Presentations to New Heights
Presentations don't have to be static affairs. By circling critical numbers and highlighting specific terms in real-time, you can captivate your audience and improve information retention. Ideao Hub allows you to save these annotations and share them after the meeting, ensuring that your efforts have a lasting impact.
Why Ideao Hub is the Ideal Solution
Ideao Hub aligns perfectly with the BYOM concept. It places you in control of your meeting while providing a platform to enhance collaboration. Since Ideao Hub doesn't have a built-in operating system, your personal data remains completely secure, making it an ideal choice for shared working spaces or hotdesking environments.
Minimal Learning Curve
Utilizing Ideao Hub is incredibly straightforward. Grab the Ideao Pen, find the "draw" option in your Word document, PowerPoint slides, or Excel toolbar, and you're ready to make your meetings interactive. It's that simple!
Effortless Setup and Implementation
Unlike many other solutions, Ideao Hub is a breeze to set up and manage. It comes with an ergonomic stand, eliminating the need for additional stands or wall mounting. One power cable is all it needs. Connect your laptop to Ideao Hub with one USB type-C cable, and you are all set. Alternatively, you can use an HDMI cable plus a USB-A cable to enable touch and write features.
Choose Your Enhancements
Ideao Hub offers a variety of versatile connection ports, ensuring you'll never run short of ports. You can connect all your essential meeting peripherals, including a mouse, webcam, and speakerphone, directly to the Ideao Hub in advance. Once your laptop is connected, you can seamlessly access with all these peripherals, eliminating the need for frequent plugging and unplugging. This time-saving convenience enhances your overall meeting experience.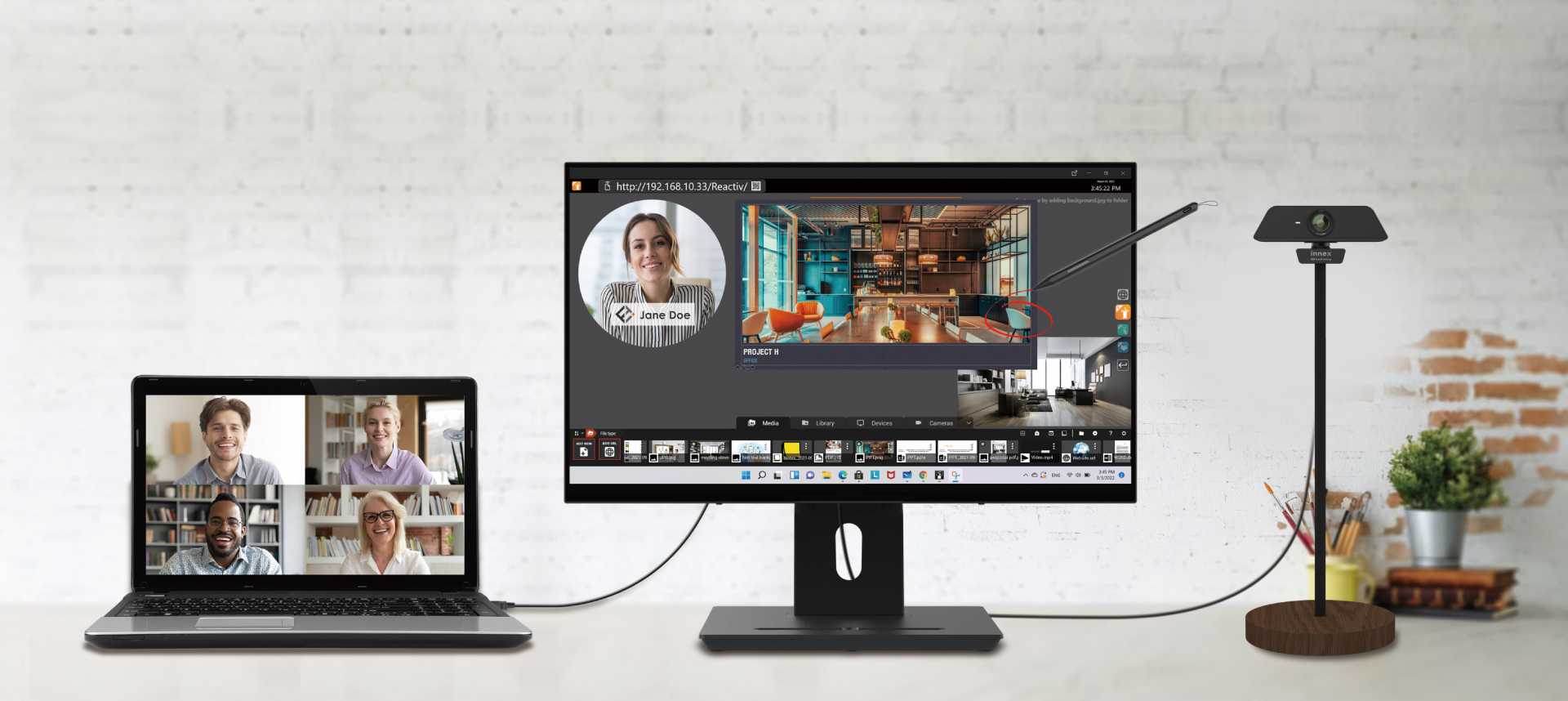 A Simple Solution to Enhance Meetings
In an ever-evolving business landscape, embracing the hybrid era means enhancing collaboration and efficiency. Ideao Hub offers a simple yet powerful solution, elevating in-person and hybrid meetings to new heights. With clear-visual, plug-and-play simplicity, real-time annotations, Ideao Hub empowers you and your team to work together seamlessly.